JACKSON, WYO (May 9, 2019) – Ranch brokerage firm Live Water Properties is pleased to welcome Chris Faulkner of Frederick and Perry Handyside of Eaton to their Colorado team. The two bring a diverse set of backgrounds to the company, with Faulkner joining from the Denver Broncos Football Club and Handyside from Paladin Ranch Resources. They join Denver Broker Brian Hartley, who is credited with over $190M in sales in his 13 years with Live Water Properties. Building on Live Water's client-centric approach each broker's experience complements the other brokers, bringing an added level of service and expertise to Live Water's valued clients.
Faulkner who is a third-generation Colorado native, began his career with the Colorado Rockies and moved through the professional sports world to the Texas Rangers, and most recently he worked for the Denver Broncos Football Club. "Chris is a natural connector whose expansive network of trusted contacts is matched only by his intimate knowledge of Colorado's scenic rivers and mountain landscapes. As a Colorado native, he lives the lifestyle and knows the special places that are often one valley over from the popular areas many think of when considering ranch acquisitions in the Rockies," says Hartley.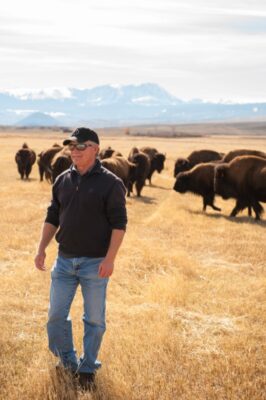 Handyside is the owner of Paladin Ranch Resources, a ranch planning, management and placement business, which he started in 2015, after 34 years of managing ranches throughout the West. He brings a knowledge that can only be gained over time when dealing with the array of situations that can arise on a ranch. "Perry possesses a vast working knowledge of family ranch ownership and a mastery of the operational details that set successful and sustainable working ranches apart from others," says Hartley. "He is the epitome of a land steward with a deep understanding of all facets of land ownership from the big game elements to the intricacies of water management and conservation considerations.
"Chris Faulkner has found success wherever he goes. His community-mindedness and strong work ethic has led to a successful history in the Denver business world, including the Denver Broncos. With his passion for Colorado's plentiful recreation, we are excited to add him to our Colorado team," says Alex Maher, President/Founding Partner at Live Water Properties. "With Perry Handyside's experience managing one of Colorado's most notable ranches, he adds a new element to our Colorado division. We are grateful to have this expertise." With the addition of these two valuable Brokers, Live Water Properties is well-positioned to further educate and assist their clients on Colorado ranch purchase and sale needs.
###
Live Water Properties is a ranch brokerage specializing in premier fly fishing, hunting, ranching and conservation real estate. With $1.75 billion in closed deals, they are uniquely qualified to assist in all aspects of ranch ownership. Since its inception in 2001, Live Water Properties has grown into a 24-person, 9-state ranch brokerage firm. They are represented throughout the Western United States with Brokers in Wyoming, Idaho, Colorado, Nebraska, Montana, Nevada, Utah, New Mexico and Oregon. Live Water Properties is distinctly qualified to connect clients with their dream ranches.