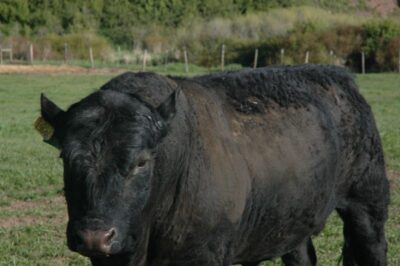 The 7th Annual Prime Cut Production Sale on the West Hills Ranch was held last Saturday March 11, 2017 in Fairview, Wyoming. The auction was hosted by Ryan and Jessica Jarratt, the West Hills Ranch managers, and ranch owners Pam and Randy Hruska.
The Auction consisted of purebred and composite Salers cattle with lots being comprised of 30 Long Yearling and yearling bulls, 10 open Heifers and 10 bred females. For those unfamiliar with the Salers (Sa'lair or Saleer) breed of cattle this is an ancient breed of cattle but relative newcomer to North American from the Massif Central region of France, a mountainous region of the country. This breed is best known for their calving ease, fertility, longevity, performance and carcass records and their ability to cover rough pastures at high altitudes, a common trait of many Rocky Mountain West Ranches. Ryan and Jessica with the support of the landowners Randy and Pam and in partnership with the Fredrickson Ranch of Great Falls, Montana and the Deep Creek Seedstock of Mitchell, Nebraska are continuing the growth of their registered Salers herd at the West Hills Ranch and expect the number of bulls offered at next year's auction to grow.
Fifteen yearling bulls averaged $3,500, nine long yearling bulls averaged $3,150, eight bred females averaged $1,581, ten open females averaged $1,581 and ten open heifers averaged $1,025. Buyers came as far from Oklahoma, with the volume buyer being Robinson Cattle Company out of Jackson, Wyoming. "We were pleased with the sale results," says Ryan Jarratt. "We focus on retaining customers and were happy to welcome some new ones this year. The high selling lot was a purebred Salers bull that sold for $8,000."
Ranch Offering: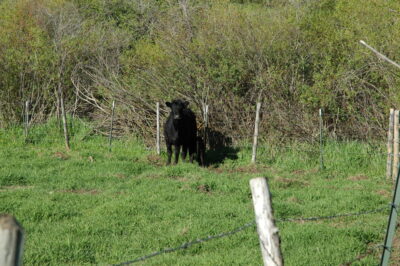 The West Hills Ranch, the host ranch for this auction, is located 5 miles west of the town of Afton in Fairview, Wyoming and is currently being marketed for sale in two separate tracks of land with a combined asking price of $4,550,000. The private ranch is comprised of 1085 deeded acres separated into two distinguished ranch offerings; the West Hills Ranch or the "Hillside portion" consisting of 885 acres and the Crow Creek Ranch or the "Crow Creek Portion" consisting of 200 acres. Collectively these two parcels of land offer an incoming owner a diversity seldom found in a western ranch setting, and it's certainly unique to the Star Valley ranch market. Private world class fishing on nearly a mile of Crow Creek, excellent water rights and irrigated pastures as well as hillside grazing pastures all with exceptional mountain views.
Crow Creek Ranch – 200 acres for $2,250,000
West Hills Ranch – 885 acres for $2,300,000
More information can be found: www.thewesthillsranch.com