Wyoming is called the "Cowboy State" and "The Forever West" for a reason. It is a destination for nature adventures where the majestic Rocky Mountains meet the High Plains. On Wyoming's rangelands and vast plains, you'll find some of the largest ranches throughout the United States.
Looking to start a ranch operation in Wyoming? You couldn't have chosen a better place. Wyoming has a rich agricultural heritage that lives on to this day. It is also one of the top ten states in the country with the most ranch land for sale.
Finding the right ranch in Wyoming is not without its challenges, but this guide and our team of Ranch Brokers can help point you in the right direction.
AN OVERVIEW OF WYOMING'S AGRICULTURAL INDUSTRY
Agriculture has always been an integral part of the Wyoming economy and way of life. Today, as a $2 billion dollar industry, it is one of the top three industries in the state. Comprising about 47% of all land use, the farms and ranches in Wyoming are considered some of the largest in the United States. According to the 2017 Census of Agriculture, the average size of a Wyoming farm is 2,340 acres – more than five times the national average.
Cattle is the largest agricultural commodity, making up about 65% of all agricultural products sold. The state's cattle industry dates back to the mid-1800s when the advent of the railway allowed for better trade throughout the West and beyond.
In 2020, Wyoming ranked as the second largest wool and lamb crop producer in the United States. Considered as some of the finest in the country, Wyoming wool consistently fetches an excellent price in the market.
According to the USDA, other leading farm commodities in the Cowboy State include hogs and pigs, hay, sugarbeets, barley, and beans.
RECREATIONAL USES OF FARMS AND RANCHES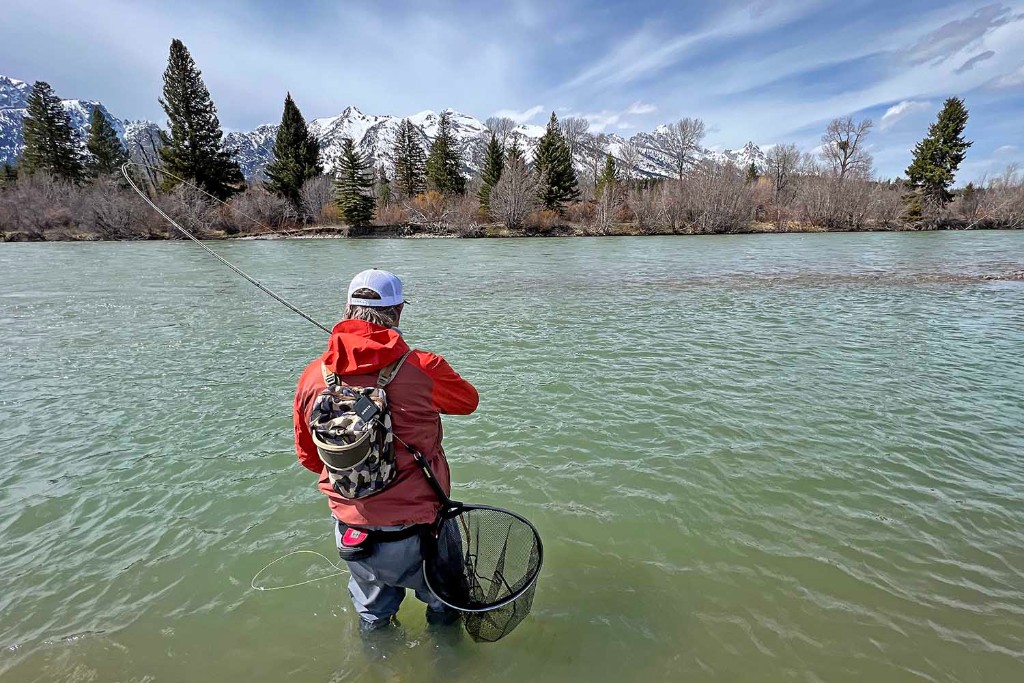 As important as agricultural production is to Wyoming's economy, many farms and ranches here are also widely used for outdoor recreation, particularly hunting and fishing.
A Wyoming ranch for sale can be rich ground for game species such as elk, moose, deer, and antelope, as well as upland birds, duck, and other waterfowl. And as a "headwaters state" providing water to streams and rivers in other parts of the country, many ranches in Wyoming also offer excellent opportunities for fly fishing.
Other outdoor recreational activities include hiking, boating, camping, mountain biking, wildlife and bird watching, and horseback riding, as well as winter sports such as skiing, sledding, and snowboarding.
Live Water Properties represents some of the best ranches in Wyoming where blue-ribbon rivers, creeks, and streams offer excellent fly fishing opportunities right out the door or just a short ride or drive away. Surrounded by some of the most iconic views in the West, these properties offer the perfect getaway, with endless nature adventures waiting for you and your guests right in your own backyard.
HOW TO CHOOSE THE RIGHT LAND FOR SALE IN WYOMING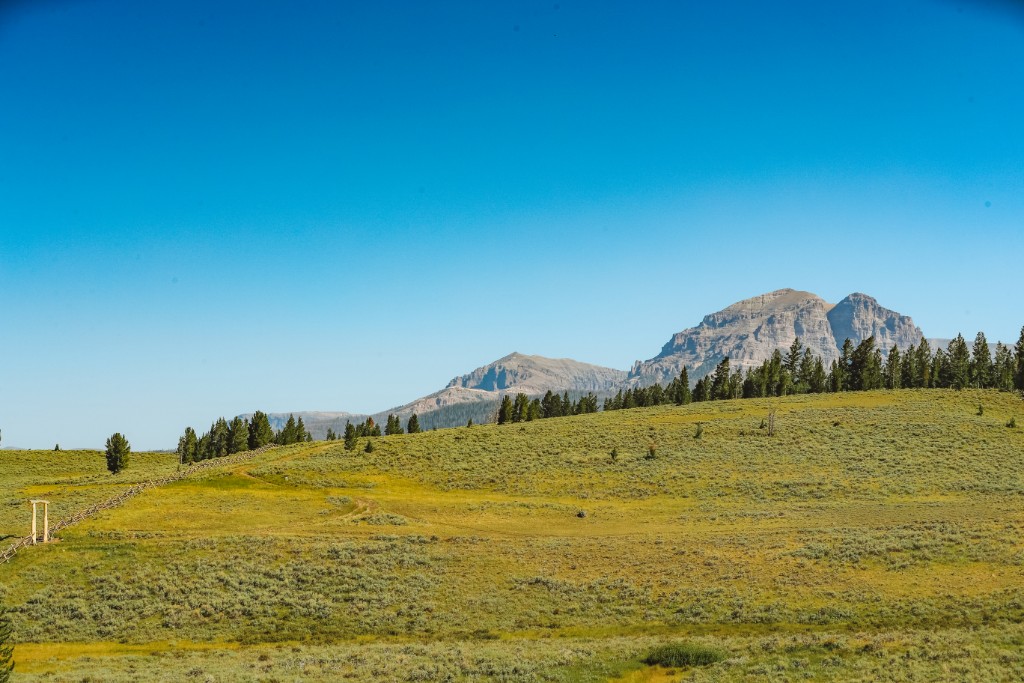 With so many excellent options to choose from, finding the right Wyoming ranch for sale can be a daunting task. Ranch ownership comes with both a hefty responsibility and numerous benefits. To successfully manage both, you must first and foremost select your property carefully.
Here are some important tips to keep in mind:
Understand your reasons for buying a ranch

People want to be ranch owners for a variety of reasons, and the first thing you need to do is to be crystal clear about yours. Your purpose for ranch ownership is crucial to determining the type of property to buy, as well as the size, the location, the terrain, and other factors.

Questions you need to ask yourself include:

Do you intend to start an agricultural business or are you simply looking for a hobby farm or a recreational retreat?
Will you and your family live on the ranch as your permanent home? Or use it as a seasonal retreat?
What activities or farm operations do you want to engage in? What type of livestock will you raise? Will you be growing crops in addition to raising livestock?
Do you plan to use your ranch for recreational activities like hunting and fishing?
How much time and money are you willing to spend to develop the land?
Do you want to run a guest or dude ranch?

Determine the size of the land you need

The ideal size for a ranch depends on the activity you want to do on the property as well as the property's location. If you're raising cattle or sheep, you must consider the right acreage for pastureland. You also need to allocate space for non-grazing needs, such as structures for the animals and a home for you, your family, and the workers on the ranch.

If you intend to make a living out of your ranch, you'll need a large property to raise enough livestock for a profit. But if you simply want to raise a few cows and sheep, and perhaps some horses for your personal needs, a smaller area will suffice.

In determining the right ranch size, the most important factor to consider is the land's carrying capacity, which can vary from one location and one ranch to another. A knowledgeable broker can help you understand and determine the right carrying capacity for your needs. Additionally, you will want to value the water sources for ranching (more on this later.)

Find the right location

As in any other real estate type, location is important in choosing a ranch for sale in Wyoming.

Land in more remote areas can cost less, so buying a property farther from main roads and towns can be a great cost saving opportunity. If you want utmost privacy, a more isolated location can also give that to you.

A remote location, however, can also mean more difficult access to basic necessities, such as farm supplies, veterinary care, and your personal needs. If you don't intend to live on the ranch, you may also need to take a longer trip every time you visit, or add a private runway for faster service.

In many places around Wyoming, most ranches are never too far from excellent amenities, including schools, grocery stores, and other destinations that are important to the entire family.

Recreational ranches, in particular, offer a complete lifestyle package that marries nature and outdoor activities with urban comforts. You'll find hunting and fishing properties with great access to entertainment, dining, and shopping options, as well as to major regional and international airports like Jackson Hole Airport, Idaho Falls Regional Airport, and Salt Lake City International Airport, as well as Casper Natrona County International Airport, Sheridan County Airport, Cody Yellowstone Regional Airport, Denver International Airport, and more.

With its rich natural resources, Wyoming offers a multitude of options for a hunting or fishing ranch. Northern Wyoming is traditionally associated with recreational ranches. Encompassing parts of Yellowstone National Park and Bridger-Teton National Forest, as well as Bighorn Lake, the Shoshone River, and most of Bighorn National Forest, the region teems with big game species such as moose, deer, elk, grizzly bear, and bighorn sheep. Game fish like trout, catfish, walleye, and bass also abound.

Southeastern Wyoming is also a good place to start your search for recreational ranches for sale. Home to the North Platte River and reservoirs like Glendo and Guernsey, as well as acres of forests and mountain ranges, the area also boasts an abundance of game and fish species.

Make sure you have water rights and access

In looking for a Wyoming ranch for sale, always ask about water sources. Continuous access to water is very important to a ranch operation. You need it to grow forage and crops, as well as to provide drinking water for your animals. A property with a flowing river or stream is ideal, but without this, a well or stock water can serve the purpose. You can also opt to construct a stock tank or dam as a source of drinking water for your livestock.

If a property uses a well for irrigation, find out how much water it produces in gallons per minute. This will give you an idea on the value of the well.

Before buying a ranch – whether to raise livestock or for recreational uses – it's crucial to understand water rights in Wyoming, which can be unique from any other state.

Unlike underground water that you can access anytime, surface water in Wyoming is owned by the government, and may be used by property owners only under an appropriation law. The law essentially states that the first users of a water source get priority in using the water. In many cases, the first users received their water rights decades ago.

However, in Wyoming, water rights are considered property rights, and are transferred along with any transfer of ownership of the land they are attached to. So when looking at ranches for sale in Wyoming, get assistance from your Ranch Broker in determining if there are water rights that come with a property.

Water rights are also important for recreational ranches. For hunting, you need constant and adequate water supply to create and sustain a habitat for wildlife.

You must also understand how Wyoming's water rights law impacts fishing in private properties. While Wyoming's surface waters are owned by the government, streambeds, stream banks, and islands within a private property are owned by the landowner. This means that the landowner has control over who gets access to them. A person may float down a stream or river over private land but they cannot anchor, wade fish, or fish from the banks or islands within the property without the owner's permission.

Survey improvements made on the land

Some ranches come with existing structures and improvements, which may be more cost efficient than building your own from the ground up. However, you need to determine if the existing structures are aligned with your needs. Check their condition and usability as well. If they're too old, have not been properly maintained, or do not serve the purpose you're looking for, you may have to tear them down and build new ones.

If you're raising livestock, fencing is an important structure to consider. Not only can it keep your animals enclosed on your property, it can also prevent livestock that are not yours from grazing on your land. According to the Wyoming Wildlife Foundation, Wyoming's "Fence Out" policy puts the burden on landowners to fence their property to keep unwanted cattle out. On the other hand, the state has a "Fence In" policy for sheep, meaning ranchers are responsible for fencing their properties to keep their herd from wandering out.

Know the laws of ranch ownership in the state

Ranch and farm operations are widely regulated in Wyoming. Before buying a ranch, make it a point to understand the laws and regulations governing this property type. In addition to water rights, the most important regulations to know are those related to mineral rights, conservation easements, land surveys, and leasing. Attorneys and land trusts in the area are especially helpful.

It's also crucial to learn about land use and zoning regulations in a location you're interested in. These vary from county to county so make sure to work with a local expert who can guide you in understanding these laws and help you avoid costly mistakes.

Wyoming provides incentives for owners of private hunting and fishing ranches in recognition of their contribution to providing habitat for game species. For example, a landowner with at least 160 acres of contiguous land may apply for landowner tags for one or more species, provided their property is found to have supported each species for an equivalent of 2,000 days of use over the last 12 months. The tags are strictly for use by the landowner and their family only.
WHERE TO BUY RANCH LAND IN WYOMING
With the tenth largest land area among all US states and the smallest population of only around 600,000, Wyoming is home to vast swathes of land that are perfect for ranching. You'll find a wide array of choices practically anywhere in the state, ranging from traditional cattle ranches to recreational hunting and fishing grounds.
These are some of the best places to start your search:
Jackson, WY

Jackson boasts a breathtaking location between the Gros Ventre and Teton Mountain Ranges, south of Grand Teton and Yellowstone National Parks. The county seat of Teton County, one of the wealthiest counties in the United States, Jackson is a popular tourist destination largely because of its proximity to world-famous ski resorts such as Jackson Hole Mountain Resort, Snow King Mountain Resort, and Grand Targhee Resort, as well as to the Bridger Teton National Forest and Yellowstone National Park.

However, it's not all about the outdoors in this vast nature playground. There's also plenty of culture, shopping, and dining to be had, thanks to the city's fantastic array of shops and restaurants, art galleries, museums, and performing art venues.

Ranging in size from 35 acres to 1000+ acres, ranch properties in Jackson also make great investments as dude ranches or simply as tranquil getaways. Whether you're looking for a ranch surrounded by nothing but open space or want a property closer to urban destinations, Jackson has the perfect option for you.

Cody, WY

Named after "Buffalo Bill" Cody, this quaint historic city relishes its Wild West origins like no other. To this day, rodeos play an important role in the Cody culture, earning it the distinction as the Rodeo Capital of the World.

Cody boasts the only access to the eastern part of Yellowstone National Park, and the Cody-Yellowstone area offers spectacular scenery you won't find anywhere else. Other legendary Wild West sites in the area include the Shoshone River and Shoshone National Park, Bighorn Basin, and Rattlesnake Mountain.

With the frontier town heritage remaining strong in Cody, it comes as no surprise that ranches of all sizes dot the landscape. These properties range in size from around 35 acres to more than 1,000 acres, and serve a wide variety of purposes, including cattle raising, hay production, and as dude and guest ranches.

Pinedale, WY

Nestled in an alpine valley surrounded by three mountain ranges – Wind River Range, the Wyoming Range, and Gros Ventre Mountains – Pinedale is a true Western town where the spirit of adventure is alive and thriving. Each year, the town welcomes numerous backpackers who come to conquer the area's popular hiking and climbing destinations such as Cirque of the Towers, Titcomb Basin, and the Continental Divide Trail.

Fishing on Fremont Lake, Green River Lakes, and other lakes and rivers in the area is also a popular local activity. In the winter, visitors come for excellent skiing, snowmobiling, ice fishing, and other winter activities. Meanwhile, Pinedale's downtown area provides plenty of shopping and dining options, and the town's festivals highlight the rich local culture and traditions.

Proudly calling itself "The true Wyoming", Pinedale has a deep cattle ranching tradition, with the town's Green River Drift considered as the oldest and longest cattle drive in the country. Pinedale, Wyoming ranches for sale range in size from35 acres to over 1,000 acres, and while many of these properties are used for cattle raising, they also offer excellent fly fishing opportunities.

Dubois, WY

A hidden Wyoming gem, Dubois boasts an authentic Frontier town feel where cowboys, square dances, log cabins, and rodeos are everyday fixtures, particularly in the summer. Boasting a diverse and breathtaking landscape of badlands, pine forests, lakes, and rivers, Dubois is unmistakably an outdoor haven.

Fishing on the Wind River, as well as horseback riding and hiking along historic trails are popular activities in the summer, while snowshoeing, skiing, ice fishing, and dog sledding are rampant in the winter. The close proximity to Yellowstone National Park and the Grand Tetons also add to the town's nature-filled allure.

Dubois, Wyoming has ranches for sale with over 1,500 acres, but you'll also find smaller properties of about 100 acres or less. Many provide exceptional fishing opportunities and access to hiking and riding trails as well as Wyoming's sought after public lands.

Sheridan, WY

Sheridan combines historic Old West charm with modern conveniences, making it one of the most visited places in Northern Wyoming. With the majestic Bighorn Mountains serving as a spectacular backdrop, Sheridan offers a wealth of outdoor adventures – from horseback and ATV riding on open ranges and mountain trails to hunting in the Sheridan and Bighorn National Forests and fishing on the Tongue River.

With its rich and fabled past, Sheridan is also the region's cultural epicenter. It has no less than 10 listings in the National Register of Historic Places and its downtown area features quaint buildings hosting fantastic shops and restaurants. Sheridan's festivals are also well attended by locals and visitors from all over the country.

Ranches in Sheridan serve a wide variety of purposes. You'll find dude ranches, recreational retreats, and cattle and agricultural ranches in a wide range of sizes – from 35 acres to over 1,000 acres.

Saratoga, WY

Located in Southeastern Wyoming, Saratoga is best known for its hot springs and exceptional fishing. People from all over the world come to enjoy the relaxing and rejuvenating waters of the Saratoga hot springs, particularly the famous Hobo Hot Springs.

Meanwhile, anglers flock to the town for an excellent catch of rainbow, cutthroat, and brown trout in the town's many streams and rivers – especially on the North Platte River and the Encampment River which have been designated Blue Ribbon Streams by Wyoming's Game and Fish Department. And as home to big game species like elk, moose, deer, and antelope, Saratoga also offers plenty of hunting opportunities.

Saratoga features recreational ranches of great value, a number of which offer blue ribbon fishing opportunities. There are also quite a few working ranches as well as properties with plenty of investment potential as guest ranches and tranquil getaways. Sizes range anywhere from 35 acres to over 1,000 acres.
LIVE THE AMERICAN ADVENTURE WITH YOUR VERY OWN WYOMING RANCH
Whether you're looking to start an agribusiness or are simply dreaming of living off the land, there's a Wyoming ranch for sale that's perfect for you.
Given all the nuances of buying and owning a ranch in Wyoming, it's essential to work with an experienced and knowledgeable local real estate agent who specializes in ranch properties.
Let the team at Live Water Properties guide you through this journey. The team's exceptional brokers all have first hand experience in buying and selling recreational properties throughout the West and Southeastern United States, and they leverage this in depth knowledge to help clients succeed in their real estate undertakings.
Have confidence knowing that a team of experts is by your side at every step of the process. Get in touch with the Live Water Properties team today at 866.230.2695 or drop them a note here.