Live Water agent, Tate Jarry, doubled up a few weeks ago with a rainbow trout along with some morel mushrooms. Morel mushroom "hunting" is a popular springtime activity in the area, as the delicious treats are hard to find but always rewarding when cooked alongside some rainbow trout. Many gourmet chefs, especially those in Jackson Hole, prize morels.
While the prospect of using the delicious mushroom in their own recipes is what draws people in, it is the thrill of the hunt that turns someone to a true more enthusiast. If you missed morel hunting season this year, take the time to read up on morel hunting tips.
If you did get to enjoy the morel hunt this season, there are hundreds of ways you can include them into your recipes, but here are two from Dishing Magazine and the Snake River Grill.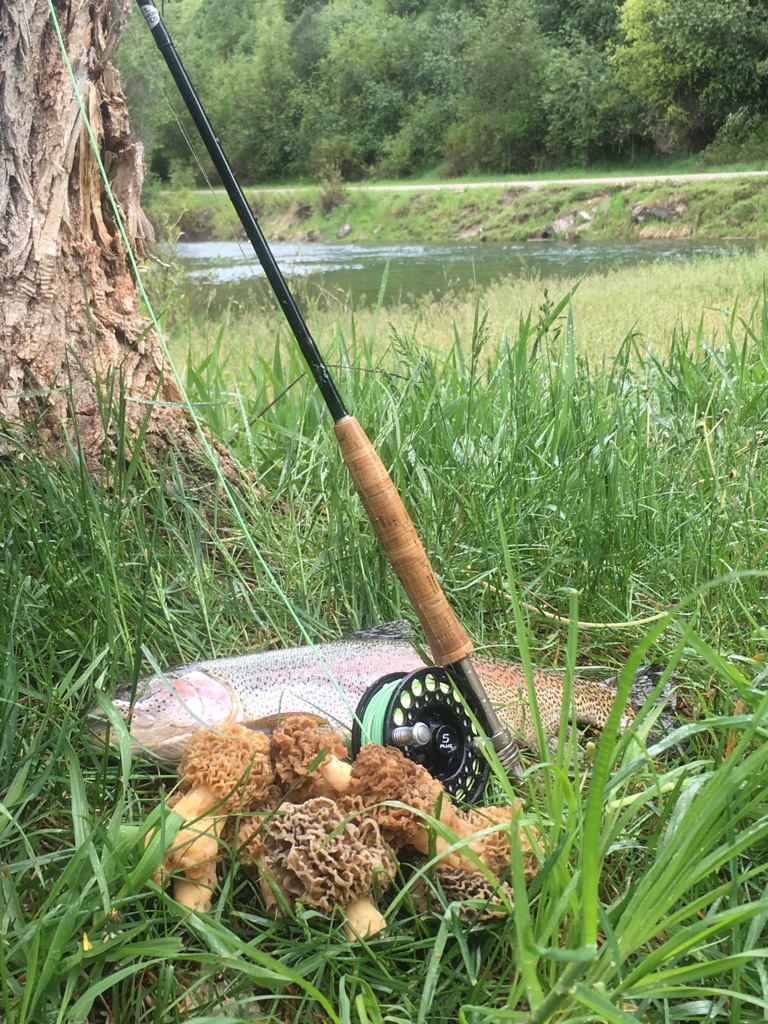 Sautéed Morel Mushroom
This recipe originally appeared in Dishing Magazine's article Foraging for Mountain Mushrooms
Ingredients
2 cups Morel mushrooms
1 shallot small dice
1 clove garlic small dice
2 tbsp butter
Splash dry white wine
Salt and Pepper to taste
Instructions
Melt butter in frying pan over medium heat.
Sauté garlic and shallots until transparent, stirring constantly as to not burn (2 minutes)
Place Morel mushrooms in pan and cook 1-2 minutes until slightly soft
Deglaze pan with a splash of wine and cook until wine reduces (2-3 minutes)
Season to taste
Serve morels and sauce as a side, over pasta, or stirred into risotto.
Note- It is important to make sure the mushrooms are all the same size as to ensure even cooking. Slice larger mushrooms lengthwise if necessary.
Snake River Grill Morels
This recipe originally appeared in Dishing Magazine's article What to do with Morels
Instructions (This is more of a method than a recipe)
Melt 2 ounces of unsalted butter in a very hot medium size sauté pan.
Immediately add the cleaned morel mushrooms and 1 teaspoon of kosher salt.
Toss in the pan until mushrooms release their moisture.
Add 3 ounces of dry sherry to the pan, and allow alcohol to burn off.
Then add 4 to 5 ounces of heavy cream.
Lower the heat and reduce the cream until it gently coats the cooked morels.
Add a pinch of fresh tarragon.
Taste again for salt.