FOR IMMEDIATE RELEASE
November 7, 2017
Contacts:
Emily Beardsley, Live Water Properties, emily(at)livewaterproperties(dotted)com
Alex Maher, Live Water Properties alex(at)livewaterproperties(dotted)com
Shauna Stephenson, Trout Unlimited, shauna(dotted)stephenson(at)tu(dotted)org
Mark Taylor, Trout Unlimited, mark(dotted)taylor(at)tu(dotted)org
JACKSON, WYO — Trout Unlimited recently welcomed seven new members to its board of trustees at its annual meeting in Roanoke, Va, including Alex Maher of Jackson, Wyo. Maher and the new board members bring a mix of conservation expertise, fishing industry acumen, business management experience and a passion for Trout Unlimited's mission of protecting and restoring North America's trout and salmon and their watersheds.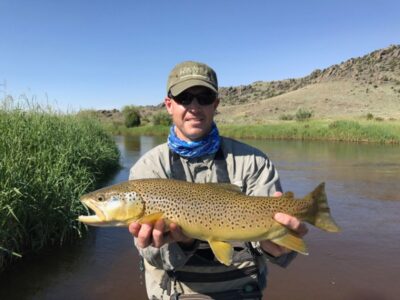 "Our new board members bring a wide range of backgrounds, talents and experience to an already exceptional group," said Chris Wood, Trout Unlimited's president and CEO. "A trait they all share is a passion for coldwater fisheries conservation, and we are excited that they will be helping guide Trout Unlimited's mission moving forward."
Maher's passion and knowledge of conservation and fly fishing spans both his personal and professional life. "Macye and I've been involved with Trout Unlimited across the West for 20 years on both a personal and business level," said Maher. He has grown Live Water Properties into a 24-person, 9-state ranch brokerage firm with the mission to "preserve and enhance." Maher and Live Water seek to respect, restore and enhance habitat as changes in private land ownership take place.
"Our children have enjoyed years of stream cleanup efforts with the Jackson Hole Chapter and have thrived in the outdoors along our favorite trout streams," said Maher. "Becoming a board trustee is both an honor and a responsibility, and I'm excited to collaborate with TU's incredible staff on conservation projects across the northern Rockies and entire United States."
In addition to Maher, the six new board members named to Trout Unlimited were Thomas L. Jones, Durango, Co., Greg McCrickard, Towson, Md., Robert A. Oden, Jr., Hanover, N.H., Al Perkinson, Bozeman, Mont., Kerri Russell, Fayetteville, Ark., Jeff Witten, Columbia, Mo./Elkins, W.Va. In June, Larry Finch, of Wilson, Wyo., agreed to complete the term of outgoing trustee Tom Stoddard.
###
Trout Unlimited is the nation's oldest and largest coldwater fisheries conservation organization. https://www.tu.org/
About Alex Maher and Live Water Properties
Maher co-founded Live Water Properties, LLC and, as Responsible Broker and Managing Partner, grew the company from a 3-person/1-office entity to a 24-person/9-state ranch brokerage firm with annual sales averaging over $142 million and total sales volume in excess of $1.4 billion since inception. In addition to managing the growing sales and service team of Live Water Properties, Maher is personally credited with producing over $185 million in sales volume during the past five years. He enjoys fly fishing, bird hunting, big game hunting, downhill skiing, writing and western art. His affiliations include the following: Founding Member, Past Chapter Chair & Membership Chair of the Jackson Hole Chapter of Young Presidents' Organization (YPO), Member of Big Sky Chapter of YPO, Life Member and Corporate Sponsor of Trout Unlimited, Life Member of Safari Club International, Life Member of NRA, Flat Creek Project Sponsor for Jackson Hole Trout Unlimited, Member of Ducks Unlimited, Life Member and Corporate Sponsor of Rocky Mountain Elk Foundation, Member and Sponsor of Bonefish & Tarpon Trust.