JACKSON, WYO – Live Water Properties, one of the country's top western land brokerage firms, announced today its expansion to the Southern United States with its new division Live Water Southern. The team will be led by Live Water Properties founding partners Alex and Macye Maher and Hunter Brant, founder of Oakwood Realty Group. Live Water Southern carries on the tradition that Live Water Properties began in the West connecting land with the people who value it.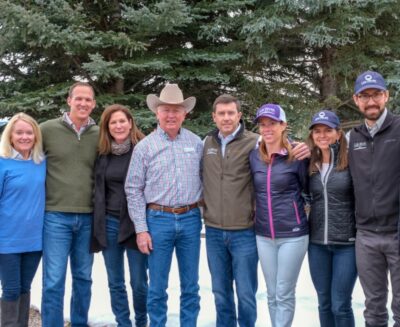 Both originally from the South, Alex and Macye founded Live Water 18 years ago with its headquarters in Jackson Hole. "It is very meaningful to us having grown up there. We are super excited about partnering with Hunter Brant to launch Live Water Southern," says Alex Maher, Founding Partner. "I've studied the market intensely for ten years and we've identified a great group of talented individuals to start this Southern unit and expand our national marketing program to the southeast."
The vision to form a Southern division has been years in the making to protect the culture, values and reputation for which Live Water has become known. "We have always grown wisely. We have tried to spend our time in the right places. The South makes sense right now. Preserving and enhancing plantations and timberland there is important," says Macye Maher, CFO/Founding Partner.
Brant adds, "Alex and I met through the introduction of a personal friend, in Augusta at the Masters Golf Tournament. At the end of the day it was clear we shared a lot of the same philosophies about land brokerage, relationships and business." Live Water is built upon a client-centric, relationship first approach, with brokers who "live the lifestyle they sell." The new division consists of five brokers, each of whom are Southern landowners. "As landowners, all five Southern brokers understand what it is to preserve and enhance the land we love and the lifestyle that connects us all," says Brant.
With over $40M in closed and pending transactions, the Southern unit is off to an incredible start and adds to Live Water Properties' 18-year effort of $1.75B closed deals. "What I'm most excited about is a national platform that's been built through years of experience. Alex and Macye have assembled a fantastic team in the West who are experts at what they do, and I'm excited to see that team along with a local team of experts here on the ground in the South."
###
Live Water Properties is a land brokerage company specializing in premier fly fishing, hunting, ranching, timberland, recreational and conservation land. With $1.75 Billion in closed deals, they are uniquely qualified to assist in all aspects of ranch ownership. Since their inception in 2001, Live Water Properties has grown into a 30-person, 12-state land brokerage firm. They are represented throughout the United States with Brokers in Wyoming, Idaho, Colorado, Nebraska, Montana, Nevada, Utah, New Mexico, Oregon, Georgia, Florida and South Carolina. The team at Live Water Properties is distinctly qualified to connect clients with their dream properties.