FREDERICKSBURG, TX – One of the country's top ranch brokerages, Live Water Properties is pleased to welcome Fredericksburg Broker Mark Harman and officially bring Live Water's national platform to Texas. Harman brings over eight years' experience in ranch brokerage, after transitioning into ranch real estate in 2013 following a career as a petroleum landman.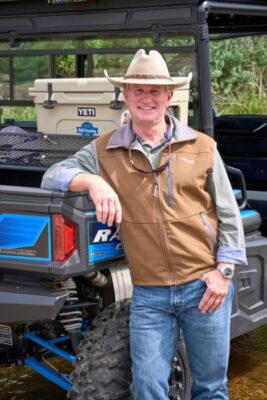 "It's been impressive watching Mark Harman invest in and grow his ranch brokerage career with determination, class and professionalism," says Live Water founding partner Alex Maher. "Last year, we worked together on a buyer representation for a Hill Country ranch, and Mark's maturity and resourcefulness shined through with a successful transaction and thrilled clients."
Live Water is built upon a client-centric, relationship-first approach and places the highest value on their privileged client relationships. "Beyond teaching his clients and leading them to ideal property investments, Mark has the ability and open-mindedness to learn reciprocally," says Macye Maher, founding partner/CFO. "He listens to his clients, exercising his expert communication skills. Additionally, he has a relentless work ethic to contribute. We look forward to Mark's engagement on the Live Water Properties' Team."
"Since getting into the ranch real estate business my philosophy has always been about connecting high character folks and putting relationships first," says Harman, "My decision to join Live Water Properties is based on our vision and values being perfectly aligned. From the moment I met Alex Maher some two to three years ago, I could sense Live Water Properties was a highly professional and sophisticated ranch brokerage.  His commitment to excellence was crystal clear to me," adds Harman.
Harman, like all the Live Water Brokers "lives the lifestyle he sells." He is a Director for the Texas Alliance of Land Brokers and supports his love for the outdoors as a member of the Coastal Conservation Association Texas, Pheasants Forever & Quail Forever, Ducks Unlimited, Texas Dove Hunters Association and the NRA. He's a competitive clays shooter, member of the National Sporting Clays Association and an avid 28-gauge bird-hunter.
The addition of Texas builds upon Live Water Properties' momentous start to the year with $244M already closed and pending in 2021. Alex Maher adds, "With such a rich history of land stewardship and a seasoned broker who understands the treasures and production Texas ranches have to offer, we are excited to launch Live Water Properties in Texas."
###
Live Water Properties is a ranch brokerage company specializing in premier fly fishing, hunting, ranching, timberland, recreational and conservation land. With $2.2 Billion in closed deals, they are uniquely qualified to assist in all aspects of ranch ownership. Since its inception in 2001, Live Water Properties has grown into a 27 person, 13-state land brokerage firm. They are represented throughout the United States with Brokers in Wyoming, Idaho, Colorado, Nebraska, Montana, Nevada, Utah, New Mexico, Oregon, Georgia, Florida, South Carolina and Texas. The team at Live Water Properties is distinctly qualified to connect clients with their dream properties.