Dilapidated cabins memorialize a bygone era of the West. They dot the landscape, weathered, battered by the elements, yet still standing, a testament to the care and craftsmanship of the builders more than 100 years ago.
When Mike Halverson, owner of Montana Reclaimed Lumber Co. (MRL), sees those cabins, he sees a living, but disappearing, piece of history.
"Today we live in a world of plastic, glass and concrete. These," he said of the cabins, "are something hand-crafted."
Halverson salvages structures built with hand-hewn logs from the late 1800s to the early 1900s, for clients who want a piece of Western history on their property or built into their homes. He is specifically interested in cabins from the Western United States, including Montana and Wyoming, from the late 1860s to 1910, that are hand-hewn. In the early 1900s the style changed to round logs and saw mills alleviated the need to hand cut wood for homes.
"There is this brief period in history during which logs were hewn by hand and used to build hand-hewn cabins and barns," Halverson said.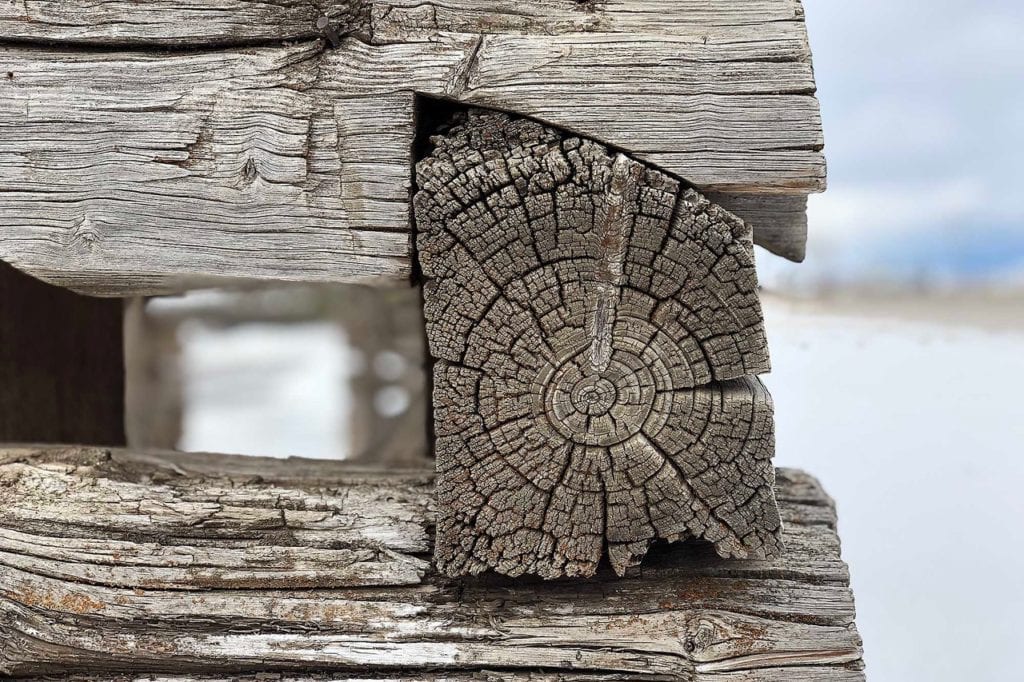 Montana Reclaimed Lumber Co. deconstructs the antique cabins, labels the pieces, and provides directions for reconstruction for clients who wish to rebuild the historic structures on their property. Skilled MRL craftsmen might redo the notching or substitute a piece if needed, but the goal is to provide customers with authentic and historical antique hand-hewn log cabin pieces to inspire or fulfill their vision.
"A reclaimed antique cabin could make an ideal guest home on your ranch or residential property," said Latham Jenkins, a real estate agent with Live Water Jackson Hole. "Once they are repurposed and put back together, it's like 'Wow, how could you not want something like that on your property?'" Jenkins said.
Halverson started procuring antique hand-hewn log cabins about 20 years ago. He'd see a cabin while driving, stop to speak to the owner and make an offer.
Thus far, the oldest reclaimed cabin Montana Reclaimed Lumber Co. acquired is from 1872. The buildings Halverson seeks are rare and becoming even more scarce each year. For the lumber to be useful, structures must be salvaged with the roof intact; after the roof caves in the lumber begins to deteriorate and is no longer structurally sound. "If a cabin is not preserved, it ends up rotting into the ground and then its lost forever," Halverson said. "They are one-of-a-kind. Once they are gone, they are gone and there are just not that many left."
"They are truly unique, yet fit in perfectly with the aesthetics of the region," Jenkins said. When they are refurbished with modern windows or a new roof, they transform into a new structure, built with local material and history. They become a conversation starter while also blending seamlessly with the surroundings.
"I like architecture that reflects your environment, and these cabins pay homage to our history, and yet when rebuilt they have all the modern creature comforts," Jenkins said. "These cabins become one of the greater focal points on the property."
Halverson often acts as matchmaker with prospective clients who call looking for a specific size, dimension, or even history, they want incorporated into their property. Buying the reclaimed cabins is a commitment; the buildings require maintenance once placed on the property. But for Halverson's customers, the work is worth it. Customers are drawn to the authentic reclaimed antique log cabins for their history and aesthetics.
"We all drive past these cabins and they beg this interest," Halverson said. "There's a lot of romance around these historic buildings—they're just so cool. The level of craftsmanship and the fact that they are indigenous to the area allows people to buy a part of local history."
Some customers reassemble the cabins as they last stood on their property or incorporate them as a truly unique room within a larger home. Some use them for out buildings like a generator shed. One of Halverson's clients bought four cabins and reassembled the logs to create a traditional frame in which he could run electricity.
"I really find joy in seeing the cabins reused and preserved," Halverson said.
When Jenkins sees the cabins he thinks of those settlers on the frontier that used craftsmanship to build homes to provide shelter and warmth. "To me, it's very nostalgic," he said. "Seeing these cabins repurposed on properties keeps us tied to the history of the land and the place. And, if you look at the detail of the design, it's astounding what the frontiersman were able to create. These cabins have withstood the test of time, and I believe, having these structures on your property is a way to honor our past in an architectural style that blends with the area."