Dear Jackson Hole Diary, I know you know I am the person who wants to get a pair of jeans named after her: the new Macye high rise toothpick dark rinse sublime ankle. You can imagine my hesitation two years ago when my twelve-year-old boy started dreaming of snowmobiling adventures. He couldn't think of anything else, and I? I couldn't think of anything less glamorous. I mean layers and layers of clothes to make this kind of winter fun happen. But I sure love that kid, so when he turned thirteen we made it happen…rented three snowmobiles and headed up to Togwotee Pass (located north of Jackson Hole on the Continental Divide, elevation 9,655 feet). A destination where annual snowfall can exceed 25 feet.
My husband and I were jittery with nerves and we worried we didn't have warm enough gear and we made small talk as we headed into a blustery snowstorm, but my son wasn't unnerved. We didn't know where exactly to park the F150 with the long trailer that held one Ski-Doo and two Polaris snowmobiles. Not only was there trepidation about the visibility, there was a huge amount of fear about getting the snowmobiles on and off the trailer without wrecking them. We tried to look very professional when we rented them in Jackson, but we were the rookies if ever there were snowmobile rookies.
The sleds have to come off the trailer backwards, got it? My husband cranked the closest one to life, put one knee up and reversed the thing, clackety clack down the metal ladder. "Job well done!" I called as he slammed the break, and I think he smiled. It was hard to see through the huge snowflakes coming down. And in no time, he had the other two off, and more people were finding this parking area. I know my husband was thrilled we were in the lead: 1) he had more room to unload and 2) we would be on the trails sooner.
It's hard to be afraid for someone else when you are scared to death yourself. So…I didn't worry about my son as he shot off. I worried about myself. The sled I had was testy and responded almost before I accelerated. It was new and it wanted to run. I fell in line behind my man and my son grateful that snowmobile suits (from rental shops) are nice and bright. I thought it's okay, the exhaust isn't bad and guess what? I like going fast. You are supposed to go fast.
Alpine skiing is my passion, but wow, this is different. "With more than 4 million riders hopping on a snowmobile annually*," I'm starting to get it. And then I see no roads, a few other snowmobilers zing past us on the trail. They show the number of people behind them with a gloved set of two fingers, the next one finger, then a fist. Safe to say, no one else is coming. And for what it's worth, I'm having a blast diary. And then my son swings right going deeper into the national forest. I turn out after him. We get a reprieve from the snowfall closer to the trees, and the sun beams down through a break in the storm clouds. "Spectacular," I say under my breath. I see the Pinnacle Buttes, the jagged mammoths of breccia, rock composed so solidly it's like it has been cemented together. Here it is a long wave of cliffs and spires.
I rip through the powder field. Everyone pauses to catch their breath and take it all in…the powder is over a foot deep in places. I just completed two sets of figure eights. I can't believe I live so close and have never done this before. I'm really proud of my son for forcing the adventure. It wasn't even that hard I'm thinking as we get back on trail. And thanks to him, we journey onward to the dazzling Brooks Lake Lodge, a tiny converted guest ranch (nearly 100 years old) that now boldy awaits. I park my sled in a line behind the others…I throw my leg over the seat and find footing once again. I crunch through the snow, find my son's gloved hand and we laugh about the fun we're having. "Did you see my jump?" I shake my head. "Show me after lunch!"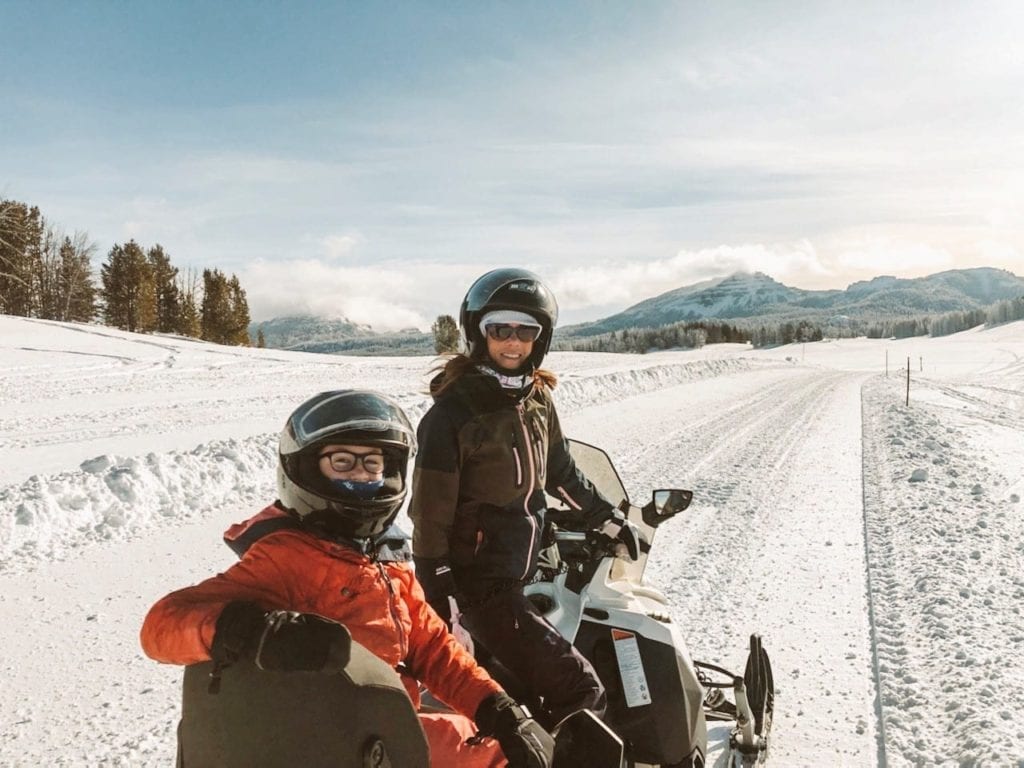 So, JH Diary, you are catching me in a moment of gladness. Inside Brooks Lake Lodge, we sit at a table near the floor to ceiling fireplace. I yearn for water and then ask for hot chocolate. My husband orders duck nachos for everyone. And we plan to come next year (2020), and we did, bringing along one of our daughters too. I'd like to share a few pictures of our snowy playground.