#FindYourPark this summer and celebrate the National Park Service's 100th year on August 25. At Live Water Properties we are fortunate to be headquartered in Jackson Hole, the gateway to Grand Teton and Yellowstone National Parks. Not only do we get to sell spectacular properties around these two parks, but we also have incredible real estate properties around the National Parks in the West. This summer, take up the park service's invitation to #findyourpark and if you decide you never want to leave, Live Water Properties will help you #findyourhomeinthepark (well next to the park).
Grand Teton National Park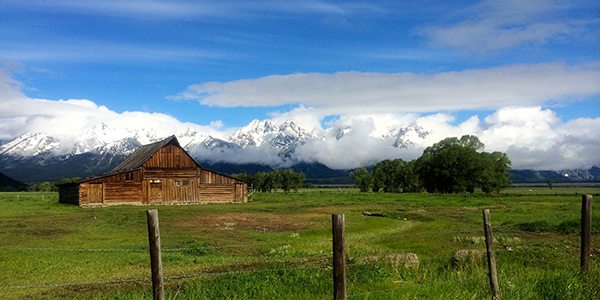 Grand Teton National Park is the closest national park to our headquarters in Jackson Hole, Wyoming. The park is named for the Grand Teton, the highest peak in the park at 13,770 feet. The 310,000-acre park is part of the Greater Yellowstone Ecosystem, one of the most complete ecosystems in the world, complete with wildflower meadows, glacial lakes, alpine peaks and dense forests. One can see grizzly and black bears, gray wolves, coyotes, bison, bald eagles, pronghorn and elk when visiting. Grand Teton is also a great park to vacation with families due the variety of activities such as hiking, trail running, mountain biking, fly fishing, paddle boarding and kayaking.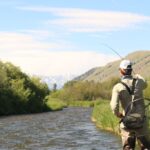 The Flat Creek Fishing Estate is situated 6 miles south of Jackson Hole, on Flat Creek, a beloved fishery among locals. This 34.89-acres estate provides excellent access to the town's resort amenities including shopping, art galleries, museums, outdoor outfitters and fine dining. The national parks and the ample amount of nearby public lands that make up 97% of the valley create endless opportunities for outdoor recreation during all seasons.
Yellowstone National Park
Established in 1872, Yellowstone National Park is America's first national park. It is also the largest National Park, consisting of 2,219,789 acres, larger than Delaware and Rhode Island combined. It is believed the park was named for the yellow rocks one sees when overlooking the Grand Canyon of Yellowstone. Sitting atop one of the world's largest calderas, Yellowstone is home to more geysers and hot springs than anywhere in the world. In fact, 50% of all the world's hydrothermal features are in Yellowstone, the most famous being Old Faithful. In addition to the hydrothermal features, Yellowstone is also known for its incredible variety of wildlife.
Yellowstone is mainly in Wyoming but also spans into Idaho and Montana. With offices in each state, Live Water Properties has excellent options near every entrance.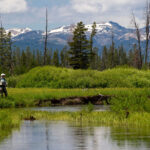 Duck Creek Cabin at Yellowstone National Park is located north of West Yellowstone, Montana. This is truly a one-of-a-kind offering: the property itself is approximately 100 yards away from Yellowstone National Park. This 12-acre sporting retreat enjoys private access to trophy fishing on Duck Creek and Duck Creek Lake. The property is complete with a 3,525 sqft main house, guesthouse, helicopter pad, onsite angling opportunities and the most fabulous backyard in the world.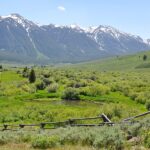 Duck Creek Preserve at Henry's Lake is located in Island Park, Idaho, a 29-mile drive to Yellowstone. Comprised of 160 deeded acres, and protected by a conservation easement with The Nature Conservancy, Duck Creek Preserve is nestled at the mouth of the majestic Centennial Mountain Range. Known as the crown jewel in the "Golden Circle of Trout", Henry's Lake is one of the premier trout fishing lake destinations in the Greater Yellowstone Ecosystem.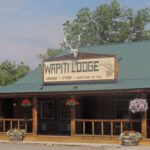 The Wapiti Lodge is conveniently located approximately 30 miles east of the entrance to Yellowstone National Park and 20 miles west of the historic western town of Cody, Wyoming. Situated in a spectacular setting on 4.68 acres, the Wapiti Lodge on the Shoshone River offering is a unique opportunity to own an exceptional lodging operation so close to Yellowstone.
Rocky Mountain National Park
Rocky Mountain National Park is 415 square miles of dramatic mountain vistas, high mountain lakes and is teeming with wildlife. It is important habitat to elk, mule deer, moose, bighorn sheep, coyotes, black bears, eagles and hawks. While summer offers prime wildlife viewing opportunities and colorful wildflower-filled vistas, the fall is equally beautiful with golden-filled scenery, the chance to hear bugling elk and to watch the rut. Rocky Mountain National Park is also great for hiking. For the adventurous, Long Peak is the highest peak in the park at 14,249 feet. The 16-mile exposed trek is not for the faint of heart, but it offers unsurpassed views from the top.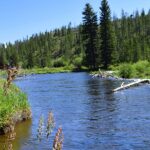 Walden Hollow on the Colorado River is located just a 20 minute drive from Rocky Mountain National Park's Grand Lake Entrance. The 40-acres property is the ideal family getaway that offers excellent fishing. A perfectly placed log home overlooks the river. Elk, deer and moose as well as a wide range of bird life often frequent Walden Hollow.