My son turned 12 on November 1st, and we were lucky for him to draw some late season tags, one of which was a cow/calf tag in a Wyoming hunting unit close to our home. This is the story of his hunt, in his words. Happy Holidays and hope you are out and about hunting with your children!
– Alex Maher
My Hunt
By Beckett Maher
When I am twelve, I have an extraordinary moment of my young adult life. The date is 11-12-2017, and we are near Bondurant, WY. There's a clear sky and I have a sense for success. When my dad and I enter the gate of the ranch, we see our guide and good friend, Vance. After loading all of our gear into the ATV, we embark up a white, snow-covered, slick hill on our journey to find and shoot an elk.
When we get in the ATV, I notice that its tires are bald, meaning they do not have any tread. This makes me think about if we are going to have any trouble on the muddy and slick ranch roads. I soon get my answer. It happens when we are trying to drive up a snowy road, we slow down and are about to get stuck, Vance suggests we stop. I later ask Vance if my dad's truck could make it up the hill, he responds, "Anything with tires could get up this hill." His statement makes me chuckle. We think it is best to walk from there.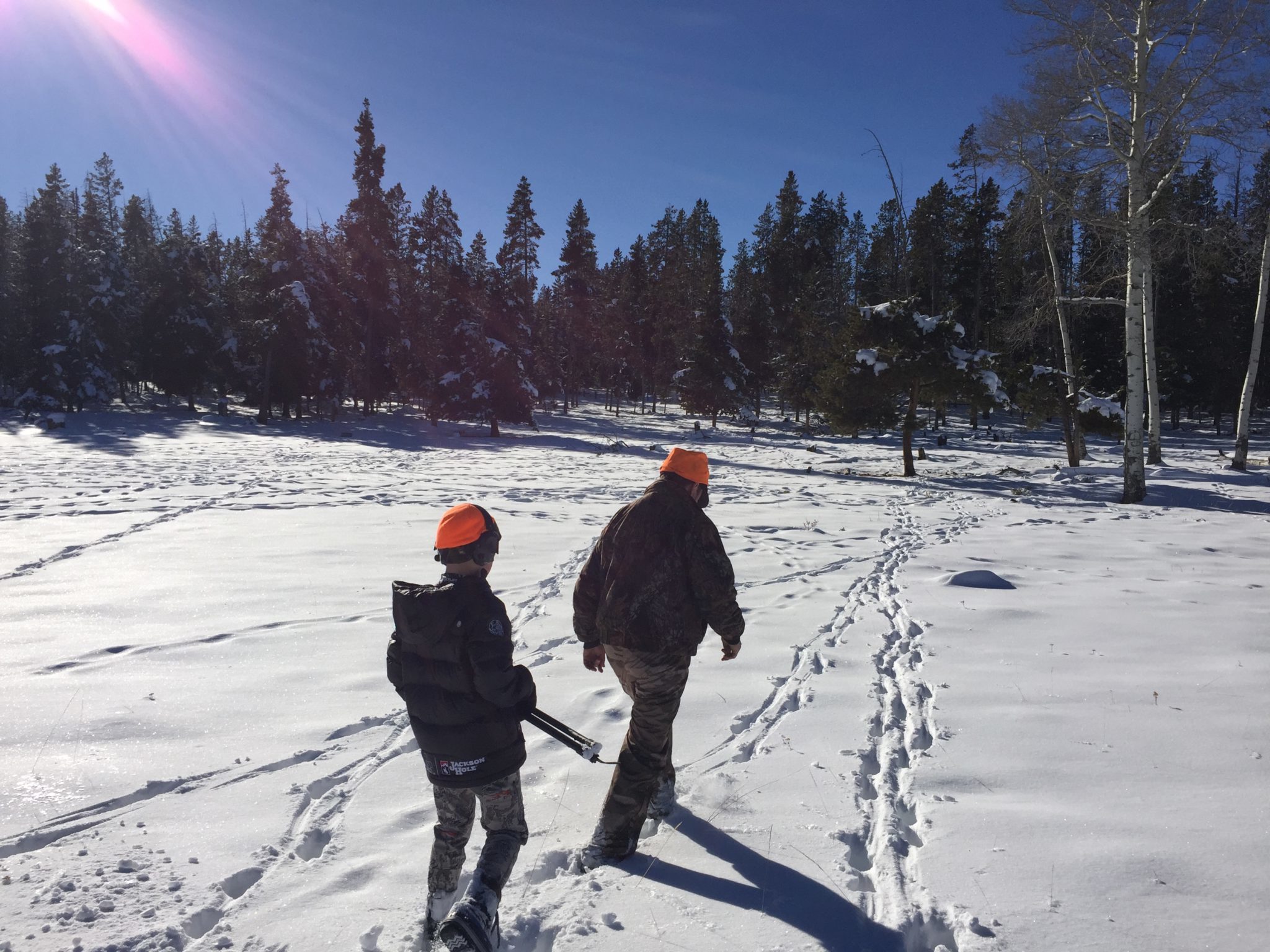 The first moral lesson here is, "Not everything in this world is easy." It feels like hours, walking, but it truly only takes 20 minutes. All of a sudden we observe fresh elk tracks going across the road, and then we begin to follow them into a meadow. We soon come upon a spot where two elk had been bedded down. The blood makes us suspicious of poachers. Two steps later we spot an elk. From this moment on we are in the "hunting zone."
As soon as my dad sees the elk we get the shooting sticks out and the gun ready. As I am setting up my shot, I have so much adrenaline and want to shoot the elk badly. As I am settling the image of the elk into the scope of my gun, it moves 5 feet, which makes me nervous. The problem is there are branches in between the elk and I. Ten seconds later it moves again (Hallelujah!!). Now I have a good shot at the neck, and as I gain confidence with the gun, Vance whispers to shoot when I am ready. I am definitely ready!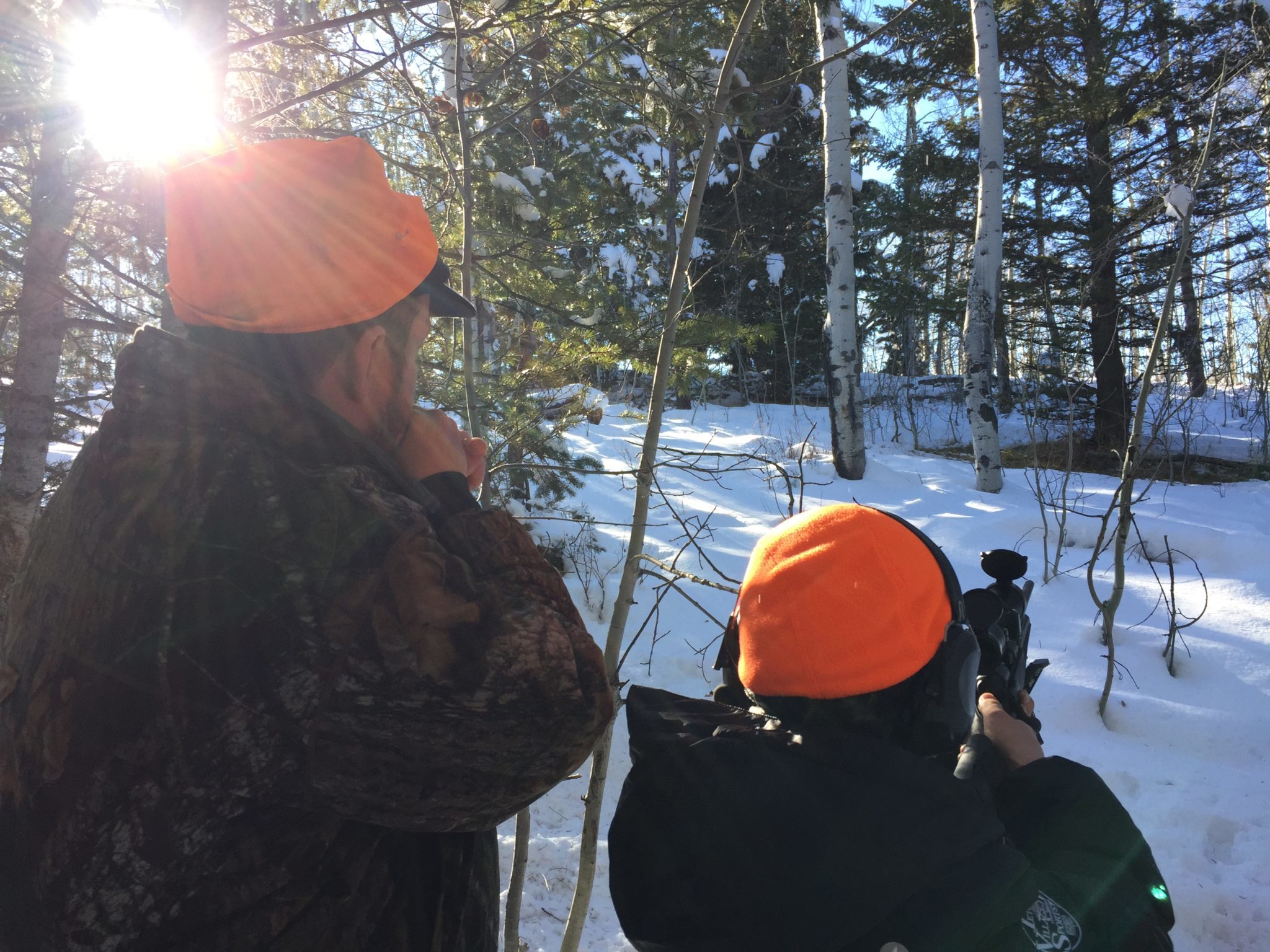 The elk's neck is in the dead center of my crosshairs, I take a breath, then another. That's when I shoot! It drops immediately but is still a bit alive. The three of us sneak up to the elk as its body is spazzing a little. Vance tells me to shoot it behind the ears to finish it off. As soon as I do that, I have shot my first elk. I am happy and joyful. It makes me thankful that I am with two great hunters who are passing on an age-old tradition.
Another moral lesson of this story is that it doesn't matter where you are, it matters who you are with and what you are doing. I am thankful that the owner of this ranch let us hunt it, and I had the wonderful guide Vance to help me. After this adventure my dad and I were able to go home sooner than expected and be with our family. We have a nice family dinner that night and make a fire in our fireplace. I look forward to seeing Vance again and going hunting with him. I am grateful that I have my life ahead: to hunt, to be in the woods with my dad and honoring the wild game that we hunt.