JACKSON, WYO (April 24, 2019) – Live Water Properties recently announced a record 2018 and honored top-producing brokers Tom Hilley of Missoula, MT and Latham Jenkins of Jackson, WY at the company's National Conference. The annual three-day conference included workshops and was highlighted by keynote speaker Gene Willis of Google who spoke on brand marketing. The weekend culminated with the top broker awards.
With over $22M in ranch sales in 2018, Hilley was honored as the company's Top Producer and Jenkins was honored as the runner-up. "We are very proud to have Tom and Latham as our top two producers in 2018. Both have just begun their careers with Live Water but have made a large impact immediately for both sales and culture," says John Merritt, Vice President at Live Water Properties.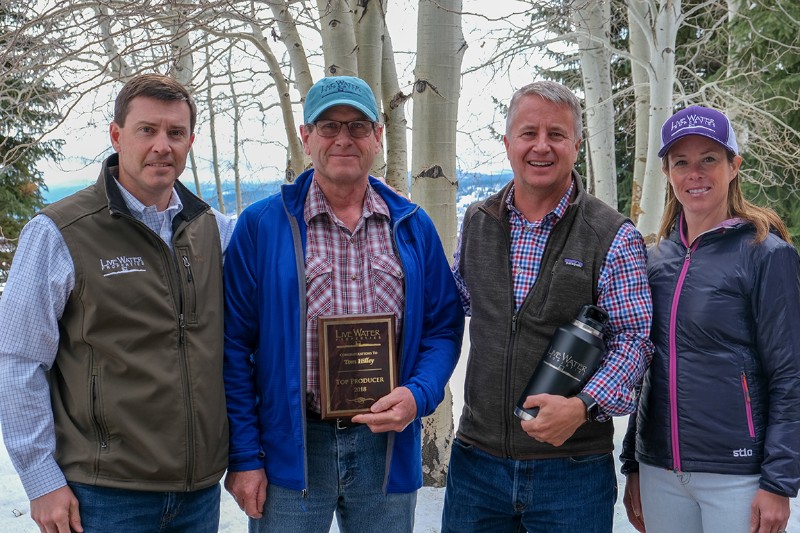 Pictured Left to Right: Alex Maher, Tom Hiley, Latham Jenkins, Macye Maher
A fourth generation Montana native, Hilley joined Live Water Properties in 2017 with 25 years in real estate. "Tom's ability to navigate multiple complex deals helped him claim the top producer spot," said John Merritt. Hilley's most notable sale included a 16,900-acre ranch in Rosebud County, MT.
"We are proud of our accomplishments, though none of these would be possible without the commitment from sellers and buyers, and cooperation of our colleagues in the ranch brokerage world," says John Merritt. "We are completely focused forward on 2019. Our inventory is strong, and we have many active buyer prospects looking at ranches, along with new marketing initiatives."Jenkins who has run multiple marketing companies throughout Jackson Hole was tapped to head up Live Water's new residential branch Live Water Jackson Hole in 2017. "Latham began as Live Water Properties' first exclusive Jackson Hole residential broker and in his first full year, he transacted over 10 deals," said Live Water Owner/CFO Macye Maher. "Latham has become an incredible asset and talented team player producing showstopper lifestyle videos and extremely satisfied sellers."
###
Live Water Properties is a ranch brokerage specializing in premier fly fishing, hunting, ranching and conservation real estate. With $1.75 billion in closed deals, they are uniquely qualified to assist in all aspects of ranch ownership. Since their inception in 2001, Live Water Properties has grown into a 24-person, 9-state ranch brokerage firm. They are represented throughout the Western United States with Brokers in Wyoming, Idaho, Colorado, Nebraska, Montana, Nevada, Utah, New Mexico and Oregon. The team at Live Water Properties is distinctly qualified to connect clients with their dream ranches. https://www.livewaterproperties.com/