Looking back on the past year, 2021 was a successful year in the real estate world across the country, and that was certainly true for ranch and recreational properties. Live Water Properties set many records in 2021, including sales volume ($457M), number of Ranch Sellers represented (62), and numbers of Ranch Buyers represented (65). The combination of financial, political, and sociological outcomes led to record Buyer motivation and interest.
Buyers moved from certain areas with high taxation and altering political environments into places where space, beauty, and recreational elements abound. That coupled with limited inventory led to a high-sales volume cycle at above-average values. What caused a second record-setting year? Below, we take a closer look at 2021, and we asked our Ranch Real Estate Brokers to elaborate on what combination of factors led to an incredible year in each of their states.
2021 in Review…
Live Water Properties Brokered $457M in 2021
79,103 Deeded Acres Represented in Our 12 State Region
$233M Seller Side Volume
62 Sellers Represented
$224M Buyer Side Volume
65 Buyers Represented
$2.6B in Sales Since 2001
2021 vs 2020
When the pandemic hit in 2020, and ranch sales started soaring, many of our seasoned brokers had never seen anything like it. It was hard to predict how long it would last, and while 2020 was unprecedented, 2021, brought more flurry to the ranch market. How did the 2021 ranch market compare to the 2020 ranch market?
"When comparing 2020 and 2021, one of the main differences was that the pandemic really started in March, and the motivation of buyers began in April, leading to eight months of major market activity. In 2021, the entire year was full of that activity," says John Merritt, Vice President/Broker at Live Water Properties.
Jeff Shouse, Broker in the Bozeman, Montana office says, "Reflecting back on 2021, real estate activity in the Montana land market was the most dynamic that I have seen in my 35 years of selling farm, ranch and recreational property. Following a 2020 record market year that experienced incredibly strong buyer demand, high transaction volume and increasing land values statewide, 2021 was in a word, unprecedented. The number of land sales in Montana increased by over 50% of 2020 numbers**, median sales price/acre increased significantly over the prior year, transactions exceeding $10M were at historic levels and the largest dollar amount ever paid for a ranch property in Montana was broken twice in 2021. A reoccurring theme of high buyer demand and low inventory prevailed throughout the year with a monthly ratio of about 3 to 1 – properties leaving the market vs new offerings available for purchase.** Similar to 2020, the number of significant values, off-market transactions were notable, and this trend is expected to continue in 2022."
According to Tate Jarry, Wyoming, Idaho and Montana Ranch Broker, "There were more onsite property visits and less couch shopping. People were a little more mobile and able to come and physically review properties. Another difference was there was less inventory in 2021, so there was more competition on each quality property, which led to more competitive bid scenarios."
"In 2020, we saw buyers primarily motivated by the pandemic and searching out the rural lifestyle that we all value. The year 2021 was more of the same in term of buyer psychology, but due to stronger economic conditions, there were more Buyers with more discretionary income moving into our markets, this demand kept pricing strong," explains Matt MacMillan, Wyoming, Idaho, Utah and Montana Ranch Broker.
"In 2020 and 2021 I represented more out of state buyers on Texas Hill Country ranch transactions than the previous 5-7 years combined. And each of these buyers has strong conservative values and wanted a life in Texas, 'The Alamo of America,'" says Mark Harman, Texas Ranch Broker.
"Overall, there were more offers and number of buyers than in 2020 leading to a stronger market," adds Ryland Moore, Oregon Ranch Broker.
Seeking a New Rural Lifestyle
With the uncertainties of the Pandemic, many folks looked to escape their overpopulated neighborhoods and workspaces, and they flocked West. What were the main lifestyle and social factors you saw contribute to the 2021 ranch market?
"Buyers continue to seek the higher quality of life that is present on a daily basis in the Rocky Mountain West. Buyers have reacted strongly to the pandemic, which has caused a change in thinking in terms of what is most important in our lives, and many have a chance to prioritize where they spend their time," says Matt MacMillan, Wyoming, Idaho, Utah and Montana Broker. "Due to limited inventory, Sellers have had the market in their favor. However, sellers have realized that what they have is special and many have chosen not to sell in these markets, regardless of price, as they too value the asset at a higher level than they did pre-pandemic."
Jeff Shouse, Montana Ranch Broker says, "Primary buyer motivation in 2020 and 2021 was influenced by several factors. The Covid pandemic was unquestionably one of the most impactful events to drive buyer interest in Montana land; quite simply, many people were looking for a piece of "open space" to social distance – a commodity that Montana has plenty of. Political and economic factors, drought and wildfires, a shift in accepted workplace norms from traditional in-office to working remotely at home, and increased exposure through mediums such as the television program "Yellowstone", were all contributing forces behind the phenomenal interest in purchasing rural Montana real estate in 2021."
"Considering the new 'working remotely' movement, along with people's greater appreciation for getting outdoors and enjoying open spaces, there has been a considerable migration to places where that nearby recreation is more readily accessible," adds John Merritt, Vice President/Broker at Live Water Properties.
"The main drivers in the Oregon ranch market were a place to escape urban areas and especially if it could support multi-generational families," explains Ryland Moore, Oregon Ranch Broker.
"Lifestyle change," is what Tate Jarry, Wyoming, Idaho and Montana Ranch Broker attributes this to. "As many people had to work from home during the initial lockdown, many realized there was no more need for 9 to 5 work in brick-and-mortar buildings. Folks can work from home and live the life they want."
Economics and Politics Affecting Ranch Buyers and Sellers
Economic and political climates can always affect the overall real estate market. In 2021, what were economic and political factors you saw affect the ranch market?
"Investment markets were at all-time highs leaving Buyers searching for other places to invest their capital. Sellers were often turning into Buyers as well, utilizing the 1031 to defer taxes on large gains. Inflation was and is skyrocketing, and investors are looking for ways to hedge against that," says John Merritt, Vice President/Broker at Live Water Properties.
"The low-interest rates and onset of inflationary conditions have seen many seeking the safety of real estate, which doubles as a lifestyle investment," says Matt MacMillan, Wyoming, Idaho, Utah and Montana Broker.
"COVID was the main player and a solid stock market," according to Ryland Moore, Oregon Ranch Broker. "Although Oregon is not a tax haven, and politics can be challenging for some, most of the State is conservative and land values are cheaper than most western states and the neighboring west coast states."
"Most notably were the number of 1031 exchanges coming out of neighboring states, mainly California. Clients were trading property to save taxes with short time frames and money in hand," adds Tate Jarry, Wyoming, Idaho and Montana Ranch Broker.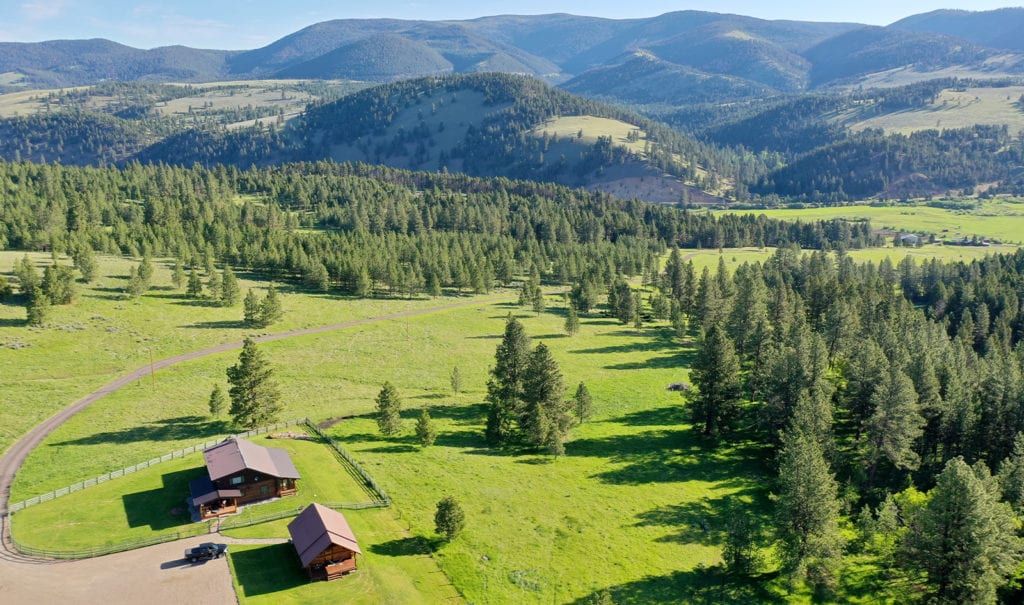 Off-Market Ranch Transactions
Off-market transactions have always taken place in ranch real estate, but in 2021 they seemed to be more commonplace and even at times a necessity. Can you speak to the role off-market transactions played in the ranch market?
"Off-market transactions have always been important in our markets. There can be many different reasons for off markets deals, with many of our sellers desiring and concurrently directing us towards a confidential sale process. The high prevalence of off-market deals in 2021 were largely inventory driven, in the sense that in many cases inventory was so limited that we had to be creative to find out buyers opportunity, which has resulted in some very healthy pricing for a landowner who might not have thought they were sellers until we approached them with an opportunity," explains Matt MacMillan, Wyoming, Idaho, Utah and Montana Broker.
"Buyers were frustrated with lack of inventory and asking for discovery of unlisted properties and leveraging our relationships with sellers," says Tate Jarry, Wyoming, Idaho and Montana Ranch Broker.
"50% of my sales were off-market. This is not normal. Buyers were describing what they wanted but the inventory was minimal. Through our connections we were able to identify or already know potential properties our buyers could acquire and make a deal happen," says Ryland Moore, Oregon Ranch Broker.
Texas Ranch Broker Mark Harman adds, "This was a big deal in 2021 and I fully expect the trend to continue going forward. Over the past couple of months, I have realized two to four incoming calls per week from brokers and or buyers looking for something inside a 45-minute drive of Fredericksburg."
Summarizing the importance of off-market transactions, John Merritt adds, "Buyers needing to work with brokers such that they are aware of off-market deals, as those have become more prevalent and will become more so as we head into 2022."
Looking Ahead
As Montana Ranch Broker Jeff Shouse commented, "Early into 2022, buyer activity seems to be as strong as the last couple of years. Current land inventory in Montana is at an all-time low, and by a large margin. Despite a strong seller's market scenario, many property owners are showing hesitation about placing their property on the market. Concerns about potential changes to current tax law and IRC 1031 exchanges, as well not having any appreciable inventory of potential replacement properties are relevant here."
As evidenced by the monthly ratio of about 3 to 1 – properties leaving the market vs new offerings available for purchase, inventory in the ranch market is tight across the country, creating an environment that is favorable to Sellers hoping to get the highest value for their properties. As we continue into 2022, many of our Brokers are working with active Buyers in your area. Please reach out to us to get a better understanding of your property's value in the current market.
Click here to connect with a Ranch Broker and learn more about Buying and Selling Ranches in you area.
**Data provided by Andy Rahn/Montana Land Source