Following an exceptional snowpack during the previous winter and one of the rainiest springs in recent history, July arrives in the West with flourishing water flows and promising weather forecasts filled with sunshine. This abundant moisture has led to a significant increase in insect populations, resulting in larger fish and enhanced fishing opportunities. As we witness the transformation of the water from murky shades of brown to a pristine, crystal-clear state, our expert angling Brokers have diligently explored their respective ranches and nearby fisheries to provide accurate and firsthand accounts for our Annual Hatch Report. Continue reading for their comprehensive fly fishing reports, highlighting specific listings across the West. 
Fly Fishing Ranches for Sale in Wyoming
Heartwood in Crescent H Ranch
Jackson Hole, Wyoming | 48.89 Acres
Crescent H offers an exceptional fishing experience with its exclusive seven-mile stretch of blue ribbon spring creek. The ranch's fishery is truly distinctive. Prior to being a private development of homesites, it was the first Orvis-endorsed guest ranch, and it was the knowledgeable guides at Crescent H who introduced the practice of catch-and-release fly-fishing in Jackson Hole. Currently, only homeowners have the privilege of accessing the ranch's pristine waters, spanning seven miles of picturesque spring creeks. The ranch's creeks are inhabited by native Snake River fine-spotted cutthroat trout, a species known for their voracious appetite and eagerness to rise to a dry fly floating on the water's surface. These magnificent trout reach their peak season in mid-July, coinciding with the anticipated stonefly hatch. Throughout the fishing season, anglers can encounter numerous hatches, including various mayflies, midges, and caddisflies. Even if stoneflies are not present, the prospect of encountering a diverse range of insect hatches remains captivating. For those who prefer the thrill of casting larger flies, the latter part of summer presents an excellent opportunity. During this time, terrestrial insects such as grasshoppers and beetles often find themselves inadvertently landing on the river, enticing the trout.
Granite Ranch
Jackson Hole, Wyoming | 33.64 Acres
Fly fishing on Granite Ranch can be a wonderful experience for anglers. Granite Creek runs through the ranch, and it is surrounded by the Bridger-Teton National Forest, offering excellent fishing opportunities in an aesthetic natural setting. The fishing season on Granite Creek typically runs from late May or early June to the end of October. Granite Creek is known for its population of native cutthroat trout. You can also find brook trout in certain sections of the creek. These trout species provide exciting fly fishing opportunities. The insect hatches on Granite Creek can vary, so it's essential to have a diverse selection of flies. Popular fly patterns to consider include dry flies like elk hair caddis, adams, royal wulff, and parachute hoppers. Nymph patterns such as prince nymphs, hare's ear, and pheasant tail can also be effective. A typical 4- to 6-weight fly rod is suitable for fishing on Granite Creek. A floating line is usually sufficient, but you may also consider carrying a sinking line if you plan to fish deeper pools.
Fly Fishing Ranches for Sale in Idaho
Grover Ranch
Driggs, Idaho | 880 Acres
Numerous spring creeks and seeps feed four unnamed streams on the Grover Ranch, all of which provide critical spawning habitat for cutthroat and brook trout. Although angling on the Teton River tributaries is closed during the month of June for the cutthroat spawn, angling for these trout later in the summer months with a 2- to 3-weight rod can be exciting and rewarding.
Nearby Grover Ranch, there is ample live water on the Teton River, where the water is still over the banks, and clarity is a challenge. Salmon flies have been seen on the lower Teton stretches closer to the confluence. As the water clears, these bugs should make their way upstream in the coming weeks. The river's upper stretches in Teton Valley offer limited angling opportunities due to the continued runoff following a record-setting snowpack and consistent afternoon spring rains. As the end of June nears and cutthroat spawning diminishes, expect more fish from tributaries to move into the river system.
Mackay Bar Ranch
Riggins, Idaho | 21.18 Acres
Mackay Bay Ranch is nestled on the Salmon River, the longest undammed river in the Lower 48 states. Getting there is an adventure—a twin-engine plane can land on the ranch's private riverside airstrip; and you can jet boat up the river, or, in winter, take a snowmobile. The Salmon River has outstanding steelhead and smallmouth bass fishing. The South Fork of the Salmon, which is upriver from the ranch, has Dolly Varden, rainbow trout, and cutthroat catch-and-release fly fishing. Stonefly nymphs are abundant in the Salmon River, and using imitations of these nymphs can be effective. Caddisflies are also prevalent in the river, so having a selection of caddisfly imitations in different sizes and colors can be beneficial. Patterns like elk hair caddis, x-caddis, or stimulator flies can be effective when the caddisflies are active. Having a range of mayfly imitations, such as parachute adams, blue-winged olive, or pale morning dun patterns, can be productive during hatches.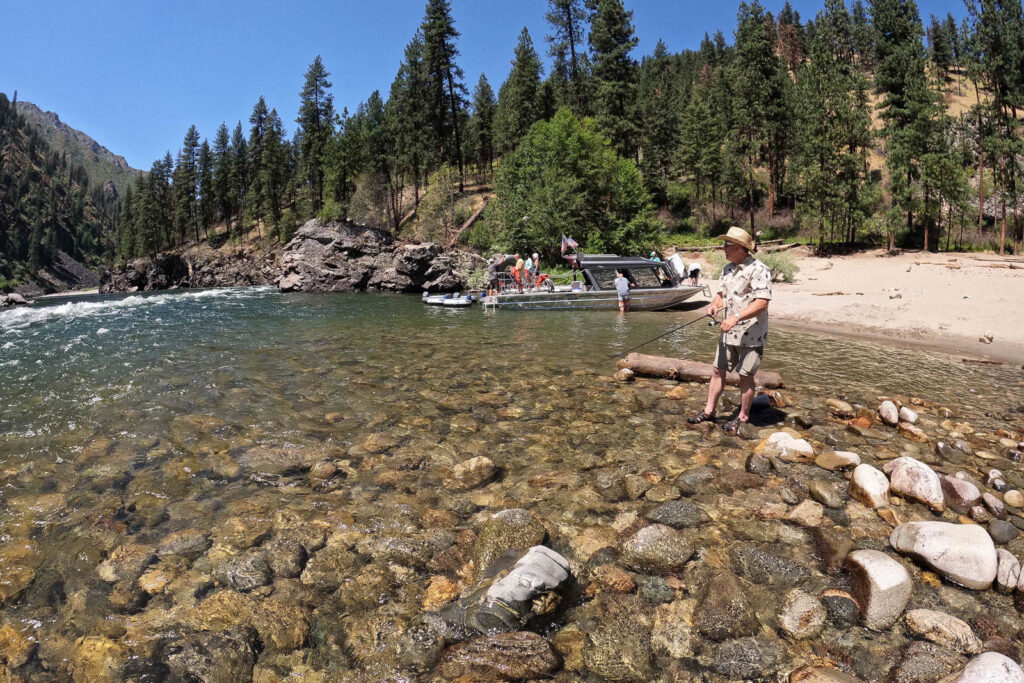 Henry's Fork Overlook
Ashton, Idaho | 213 Acres
The Salmon fly hatch has tailed off in the past two weeks with residual action near the Hatchery Ford stretch. On the stretch from Warm River to Ashton, where the Henry's Fork Overlook is located, anglers are reporting excellent dry fly fishing with pale morning dunns PMDs, caddis, and the angler's favorite, the green drakes. In general, Henry's Fork is one of the first rivers in our region to clear from spring runoff and is a favorite destination for many anglers. The middle of June marked the opening of the Harriman State Park in the Island Park area, which can prove challenging but also rewarding, with the larger fish in the system residing in this area.
Fly Fishing Ranches for Sale in Colorado
Penn Ranch
Durango, Colorado | 343 Acres
The Upper Los Pinos or Upper Pine – as the locals know it – is a classic Western freestone stream draining the pristine Weminuche Wilderness. The rainbows, browns, cutthroats, and brook trout are perfectly matched to the stream's multi-colored pebbles and stones, which often conceal their abundance. The bugs on the Pine typically hatch in line with other Western freestone fisheries (freestone fisheries are fed by rainfall and snowmelt) though they are a little behind schedule due to this year's larger runoff and wet spring. Currently, the water level is dropping fast. The clearing water has the bugs moving, and the fish are active, especially towards sunset. The Pine is rapidly approaching the prime summer season, which carries through fall with excellent dry fly fishing. With all the ordinary hatches being plentiful, fly selection is not crucial. Wulffs, Stimulators, and Hoppers provide reliable floatability in the swift, sometimes frothy currents. Wary larger fish, which are commonly over 16″, can often be enticed with a Zug Bug, Hares Ear, Prince, and Pheasant Tail dropper fly. Larger nymphs, 12s, and even 10s, offering flash, get more attention in the swift waters, which have yet to reach their gin-like clarity that is expected a little later in the season.
Explore the Penn Ranch
Dancing Pine Ranch
Bayfield, Colorado | 182 Acres
The Lower Pine River, located south of the Vallecito Reservoir, is essentially a private tailwater fishery. The extra oxygen helps the rainbows and browns below Vallecito Dam grow to trophy-worthy proportions. With releases at just under 600 CFS, the flows are high but healthy. The fish are all over the river, usually positioned behind or even in front of the sizable boulders that dot the river channel. Classic pocket water technique is reliable on the Lower Pine. With significant hatches of caddis, mayflies, and stoneflies, anglers can match the hatch by picking blindly from their fly box. However, from June into July, it pays to go very large. Big attractor patterns – such as Elk Hair Caddis, Royal Wulff, Renegade, Godzzila, and DiveBomber – coupled with a large Hare's Ear nymph or even a San Juan Worm is the secret sauce during the steady early season flows. With a stellar 2022-23 snowpack, the great flows should extend into the fall, keeping fish – and anglers – happy.
J Diamond B Ranch
Lake George, Colorado | 448 Acres
Tarryall Creek on the J Diamond B Ranch features a meandering flow with an ideal combination of riffles, deep pools, undercut banks, and some great pocket water. Top-to-bottom stream enhancement on the entirety of the 1+ mile of private fishery has resulted in outstanding habitat, with impressive populations of Browns and Rainbows averaging 15 to 17 inches, with catches upwards of 24" not being uncommon. Additionally, there is a smaller population of feisty brook trout. The hatches vary throughout the year, with midges being important year-round, while mayflies, caddis, and stoneflies become prevalent during the warmer months. Currently (mid-June), pale morning dun (PMD) hatches are dominating the mornings. The lush grasses that have followed a healthy snowpack promise a stellar terrestrial season. Currently, stealthy anglers who can drop beetles or ants into the undercut bends are catching large trout. Later in the Summer, hoppers will replace the beetles and ants as the favored option.
Fly Fishing Ranches for Sale in Montana
Healing Waters Lodge
Twin Bridges, Montana | 20 Acres
Healing Waters is an ORVIS-endorsed fly-fishing lodge with a diverse fishing program rivaled by few operations. The lodge benefits from special use permits on Montana's famed rivers, including the Beaverhead, Big Hole, Jefferson, Madison, and the Smith. The lodge also benefits from wading access agreements on streams like the Alder, the Ruby, and the Boulder. Additional access to private spring-fed creeks and ponds continues to set Healing Waters Lodge apart from the competition. With flows backing off and clarity increasing, local freestone fisheries are already dropping and approaching good fishing levels. Salmon flies have been hatching on various rivers around Southwest Montana and will continue through early July. Golden stones are expected to follow the salmon fly hatch, and just around the corner, yellow sallies, caddis, and pale morning duns should also appear on the menu. Streamer fishing will improve as water temps continue to rise.
Explore Healing Waters Lodge
Marias River Ranch
Loma, Montana | 1,498 Acres
The Marias River Ranch offers outstanding angling opportunities for warm water fish like smallmouth bass, walleye, sugar, catfish, pike sturgeon, and the occasional trout. Bring your 6 to 8-weight rod and plenty of streamer and popper patterns for the Small Mouth, and don't be shy about including a spinning rod too. Other anglers and boaters are seldom seen on this part of the river, making it feel a little like stepping back in time. Closer to Tiber Dam, the Marias is a tailwater fishery offering good traditional trout angling opportunities. The Mighty Missouri is about five river miles downstream from the ranch. Trout are not common in this portion of the river. However, most warm water species that live in Montana can be found there; trophy-sized fish are not uncommon.
Explore Marias River Ranch
Bridger Creek Gem
Bozeman, Montana | 71 Acres
Bridger Creek is a little bit of a "sleeper" since it does not have excellent access for the public in most areas. You will be pleasantly surprised by the great fishing that the creek offers. Bring a 6 to 7&1/2 foot 3 to 5 wt. And a small selection of attractor dries and a size 14 bead head or two if the trout are not looking up. Rainbows are the primary target, but anglers will catch a few browns and even a brook trout or two. The average size is about 10 inches, yet significantly larger trout are in deeper pools. If you're looking for 20+ inchers, Bridger Creek is probably not the place. But if catching beautiful fish on attractors, ants, and hoppers sounds like a great way to spend a few hours, this creek should not be overlooked. These fish are abundant and eager, two of our favorite qualities in a trout.
Fly Fishing Ranches for Sale in Oregon
R&C Ranch
Fossil, Oregon | 5,430 Acres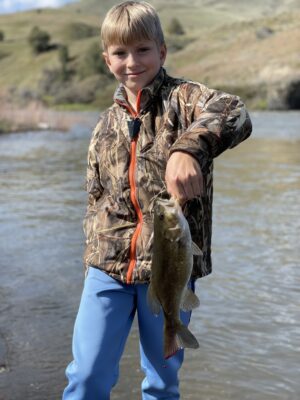 Fishing for smallmouth bass on the John Day can be epic from around May through August. The action is fast and furious on most days with both sub-surface and poppers on the top water. You can float the river searching the banks and deep holes for big bass or fish right from the front yard or the many riverfront miles of the R&C Ranch. Many fish can be caught during this spring/summer fishery, and an 80-fish day is not out of the question. Come fall, the Steelhead fishing picks up, and big fish start to move up the river.
Fly Fishing Ranches for Sale in Washington
Sunrise Ranch
Anatone, Washington | 2,685 Acres
Fishing on the Grande Ronde from June through September is excellent for rainbow trout and smallmouth bass. For trout, the hatches in June tend to fall into the stonefly and caddis categories. From July through September, hoppers are a great choice to stir up big fish. Fishing smolt streamers or minnow patterns with some flash or sparkle can be very productive for the bass during the summer months, but poppers can always be a great option and work great for top-water action. As the summer winds down and we move into fall, steelhead starts to populate the river around mid-September.